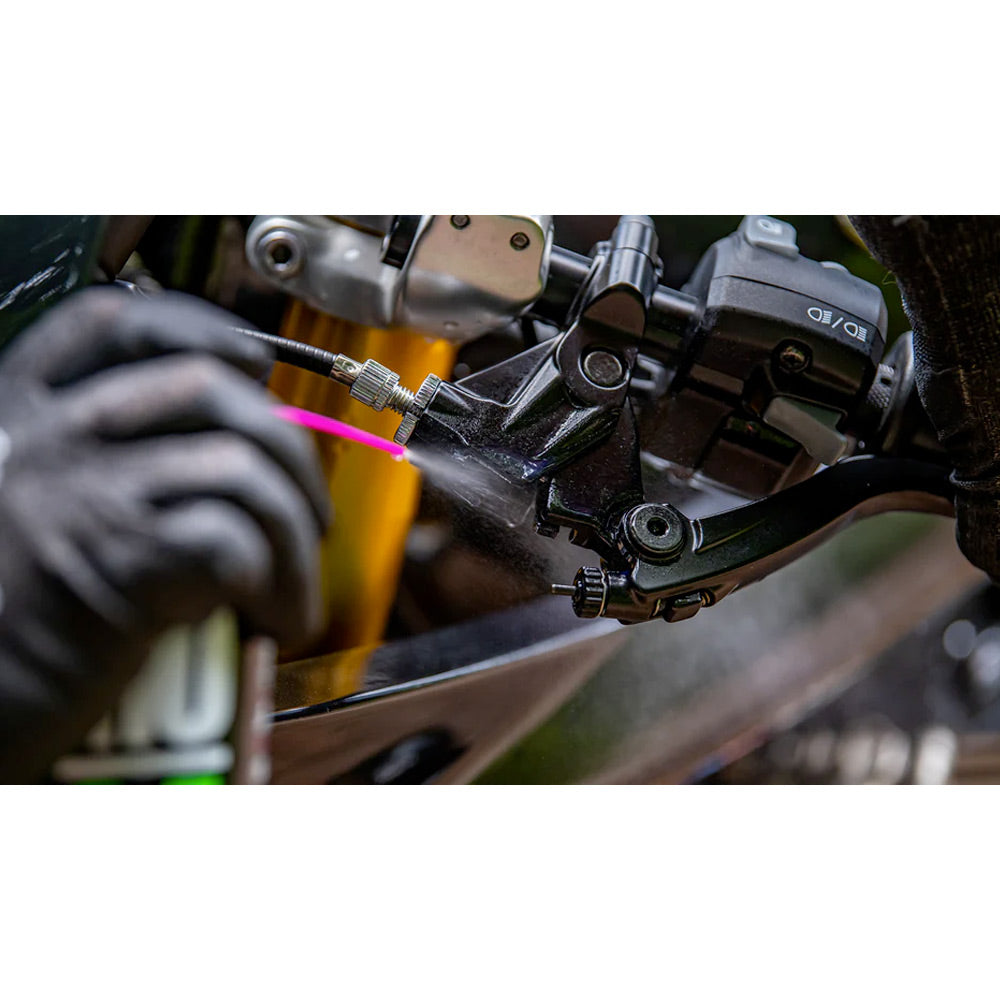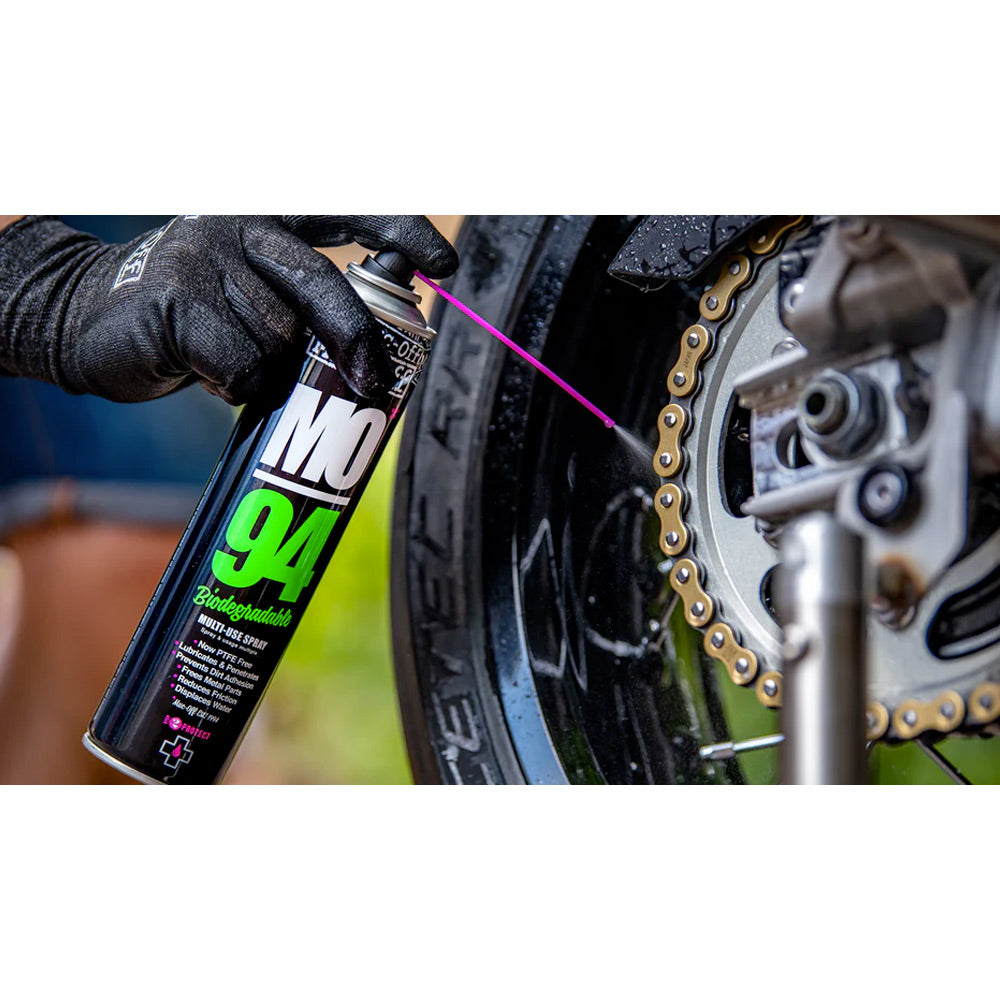 MO-94
Stop rust, lubricate parts, add a long-lasting protective film – you name it, MO-94 does it. It's the perfect protective spray for all things two or four wheeled.

SEE IT IN ACTION
MO-94 is our ultimate multi-purpose wonder spray that can be used in a whole heap of ways to protect your bike or motorcycle.
Reduces friction and frees seized parts
Long-lasting protective film dirt adhesion
Drives out moisture from the deepest depths of your rig to help protect against corrosion
Looking for an all round wonder spray? Look no further! Muc-Off MO-94 covers all the bases with it's incredible formula that quickly and effectively penetrates moisture, lubricates moving parts and leaves a long lasting protective film. MO-94 prevents dirt adhesion and also drives out excess water to keep rust and corrosion at bay. MO-94 isn't just for bikes, motorcycles or cars. Nope. It works on just about anything. Whether you've got a squeaky door hinge, a rusty lock or a bolt that you just can't turn, MO-94 is all you need.
*Just remember not to apply MO-94 to your bike's tyre treads and braking surfaces!
DANGER: Extremely flammable aerosol. Pressurised container. May burst if heated. May cause drowsiness or dizziness. Repeated exposure may cause skin dryness or cracking. Keep out of reach of children
FEATURES
Free seized parts
Disperses moisture to prevent rust and corrosion
Provides light lubrication for moving parts
Reduces metal to metal contact
Prevents dirt adhesion
Cuts down on friction to improve component efficiency
Weight - 400g
Biodegradable*
* Contents only.
HOW TO
Apply Disc Brake Covers to prevent over-spray and contaminating your discs and pads
Spray MO-94 over the desired area for treatment
You can use the pink directional straw for smaller, harder to reach parts
Allow area to dry
Wipe away any excess using a microfibre cloth
PRODUCT INFORMATION

Keep away from heat, sparks and flames. Keep canaway from any source of electricity. Do not puncture orincinerate (burn) container. Do not store above 120°F or in direct sunlight. Do not smoke while using. Avoid breathing vapors. Avoid contact with the eyes. Use with adequate ventilation. Intentional inhalation abuse (concentrating and inhaling vapors) may be harmful or fatal.

KEEP OUT OF REACH OF CHILDREN.

FIRST AID: Eye Contact: Immediately flush eyes with water for at least 15 minutes and call a physician. Skin Contact: Wash thoroughly with soap and water. Get medical attention if irritation persists. Inhalation: Move to fresh air. Get medical attention if irritation or other symptoms develop and persist. Ingestion: Do not induce vomiting. Never give anything by mouth to an unconscious or drowsy person. Immediately call a physician or poison control center.

CHEMTREC: 1-800-424-9300, 24 HR.
Shipping
Free standard shipping on all Canadian orders over $150.
Canadian orders under $150 will be charged $15 for standard shipping.
Canadian express (1-3 business days) shipping is available for $30.
USA shipments are a flat fee of $40 CAD for shipping.
USA shipments only available for mainland USA.
Gastown Supply Co makes no guarantee on the delivery estimates listed here.
Orders valued over $100 will require a signature for delivery.
Orders placed on weekends or after 2:30pm on Friday leave our warehouse on Monday or the next business day during long weekends (BC, Canada long weekend schedule).
Deliveries are made on weekdays only.
Orders are shipped from Vancouver using Fedex. Please see the table below for standard shipping delivery estimates to major Canadian cities.